Realize the Full Potential of Pollen Quality Monitoring for Breeding and Seed Production!
The Amphacademy is an international symposium for experts and researchers engaged in plant breeding and seed production. The 5th edition of Amphasys's community summit took place from September 19 -20, 2019. 
The focus of this year's Amphacademy was on key innovations in pollen analysis and how to drive yield improvements based on these findings. We presented the results from a large scale industry study, and of course our participants had the opportunity to engage in several practical sessions to maximize the value of systematic pollen quality analysis.
IFC-Concepts for DH Protocol Development and Optimization
Dr. Iris Heidmann – Acepo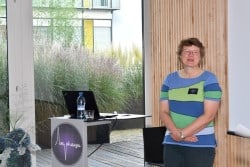 Impact of Pollen Quality on Seed and Yield Production
Dr. Ewa Shreepaathy – Rijk Zwaan
Dr. Marco Di Berardino – Amphasys
Pollen Viability in Hazelnut: Best Practices, Preliminary Results and Perspectives
Lorenzo Ascari – University of Turin
AmphaSoft 2.1.6 - New Features and Implications
Dr. Periklis Sochos – Amphasys
A series of five simultaneous breakout sessions offered insight into specific topics and enabled participants to discuss and reflect individual experiences.
How to measure big pollen
Quality control in the pollen supply chain