Seed Quality Starts
with Pollen Quality
Temperature, humidity and factors like the application of pesticides or inbreeding depression have a direct impact on pollen viability, quantity and seed yield.
Now, with the Ampha® Z32, you can get a precise measure of the pollen viability along your Pollen Supply Chain in the lab or greenhouse, while eliminating time-consuming and inaccurate germination and staining assays.
Increase breeding efficiency and get to market earlier through:
Improving crossing success rates
Maximizing the time window for crosses
Adjusting the pollen vigor in master lines
Breeding for heat tolerance by selecting for pollen viability under heat stress
Monitoring the sterility of cytoplasmic male sterile (CMS) lines
Prof. Ivo Rieu, Radboud University
"The Ampha Z32 system has enabled us to analyze thousands of tomato plants grown at high temperatures and led to the discovery of several old tomato varieties that can maintain their pollen health and final yield much better than the current ones."
Control over pollen quality and pollination along the Pollen Supply Chain is a key success factor to ensure high quality seed and yield.
Excessive warm nights, draughts, rain and pesticide applications negatively affect the pollen viability, quantity and timing of pollen shed, leading to a reduced seed set and yield loss. Consequently, measuring and understanding pollen quality in hybrid seed production allows maximization of yields, improvement of the female to male ratio and forecasting of your yield.
Enhance hybrid seed production by:
Todd Krone, CEO of PowerPollenSM
"We use the instrument to check pollen quality before pollination, to improve pollen preservation and for rescue pollinations when natural pollination was not sufficient to get a good seed yield."
Effective pollination is indispensable to ensure high seed and fruit yield. Asynchronous flowering of pollinator trees in the orchard, rising temperatures and droughts, as well as the decline of natural insect pollinators severely affect this biological process and cause significant losses in tree nut and fruit production.
Increase crop yield, reduce risk and save money by: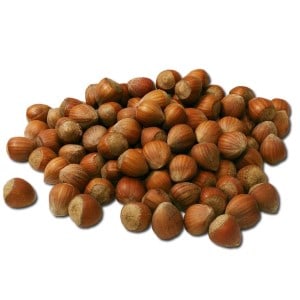 Challenges in Pollen Analysis
Traditional methods to determine pollen viability often rely on tedious sample preparation steps and labor intensive microscopy analysis.
With the Ampha Z32, sample preparation is just a simple resuspension and filtration that takes less than a minute and works for all species (currently over 200 species tested)!
Pollen Viability & Seed Set
Seed set in tomato as a result of pollination with pollen of varying quality.
Pollen viability measured on the Ampha Z32 before pollination: A = 31%, B = 3.5% and C = 0.3%. The size of fruits resulting from pollinations with these pollen samples (pictures), as well as the seed set (right graph) correlate with the pollen viability.
Other species show similar behavior, although each species has individual correlation patterns.
Pollen Viability & Germination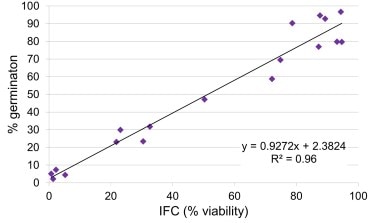 Pollen viability analysis with IFC and in vitro germination show an excellent correlation (R2 = 0.96). While over 10'000 pollen per minute were analyzed with the Ampha Z32, only 100 pollen could be counted in the same time with the germination assay. This high count results in a standard deviation of <1% for IFC.
While a single germination experiment takes hours to days and is labor intensive, IFC results are obtained within only about two minutes.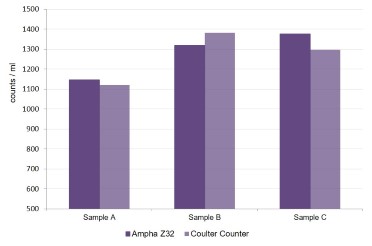 Counting pollen as part of a pollen dispersion, pollen potential or pollen emission analysis is the standard method for calculating the number of males needed for optimal pollination. 
An accepted method relies on collecting the pollen in Isoton media for preservation and counting with a Coulter Counter. The comparison between the Ampha Z32 and the Coulter counter shows that besides providing viability data, the Ampha Z32 can at the same time also be used to rapidly count large amounts of pollen.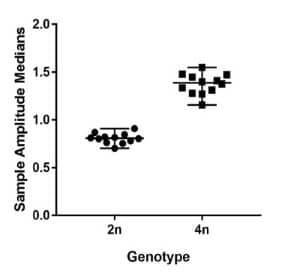 Analysis of ploidy in Watermelon Pollen (Citrullus lanatus).
Diploid and tetraploid samples can be distinguished by analyzing their average size. Similar results were obtained for many other species like kiwi, tomatoes, potatoes, wheat and cyclamen.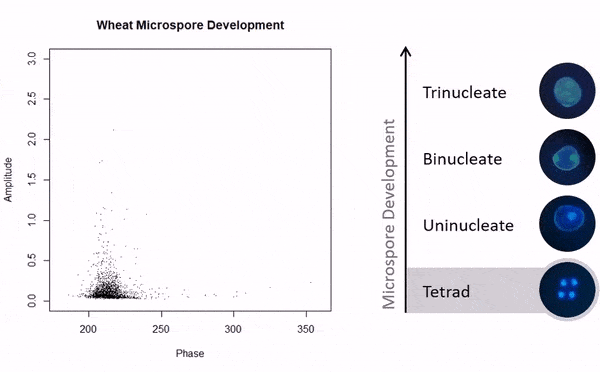 No time-consuming DAPI staining is required to determine the stage in microspore development anymore! IFC on the Ampha Z32 is so sensitive, it allows to distinguish between unpolarized and polarized microspores, as well as bi-cellular and tri-cellular pollen.
Besides staging, the Ampha Z32 allows early detection of induction success, allowing earlier selection of cultures. Optimize your DH induction protocols and monitor the induction success.
Consultancy and customer support
To provide the best support for our customers and to get most out of our technology, Amphasys offers consultancy projects to analyze the whole process from pollen production to final pollination along all stages of your pollen supply chain.
Our pollen experts support you in the analysis of the critical steps, e.g. the determination of the right time to collect the pollen, optimization of preservation and storage conditions, or the determination of the optimum amount of pollen for pollination.
Together we elaborate solutions to improve and optimize each step to prevent loss of pollen quality.