Pollen Analysis in Tomato
Why Measuring Tomato Pollen Quality?
Sufficient pollen viability and pollen amount are essential for a high seed set and are indispensable for a cost-efficient seed production. Identifying high pollen quality lines as early as during the breeding process saves both time and resources not only in breeding, but also later in production research and seed production. Additionally, this valuable analysis provides breeders with an in-depth knowledge about the genotype-phenotype interaction, helps to avoid environmentally induced plant stress by suggesting the proper line placement in respect to the climate zones, and decreases the chance of unsuccessful pollination.
Our Tomato chip features automated data analysis of pollen viability and quantity, it provides instant results, as well as time and resource efficient in-field and greenhouse measurements.
We provide support & consultancy for the optimization of your pollen analyses for breeding and production processes
Characterization of pollen quality of inbred lines in breeding and seed production
Improvement of Tomato seed production
Characterization of pollen quality of inbred lines in breeding and seed production
Identify the best pollinators
In Tomato hybrid breeding it is important to identify lines with high pollen viability to ensure a proper seed set in production. This saves resources and pollination time and makes the seed production processes more efficient.
Graph with different lines showing different levels of viability
Perform routine line screening
Our technology enables fast and simple pollen analysis which is tailor made for routine line screening. This helps you to identify pollination issues before they arise.
In this experiment Tomato pollen viability of the same line was measured eleven weeks after start of the first flowering. The results showed a range of variation in pollen viability between the different weeks. This information is essential for pollen collection, adjustment of growing conditions or for selection of highest viability for pollen storage.
Improvement of Tomato seed production
Determine optimum pollen viability
By using our technology, you can easily determine the viability of your pollen to ensure maximum pollen quality needed to achieve an optimum seed yield.
Prevent losses by checking the pollen quality before pollination
Increase seed yield and production efficiency
In a large scale customer research project with 12 different tomato varieties and over 800 plants, a clear and distinctive correlation between pollen viability and seet set was obtained for every line.
Determine the Optimal Time for Pollen Harvest
With our solution, you can determine the viability of your pollen much faster than with comparable methods for pollen viability determination.
• Determine the best time to collect high quality pollen
• Optimize growth conditions for maximum viability
Pollen viability can vary considerably over time.
The target viability to achieve optimum seed set for the example tomato line shown in the illustration, should exceed 70% viability.
Using the batches of pollen with viability below 70% could lead to a reduced seed set. These batches could for example be mixed with high viability samples to reach optimum seed set.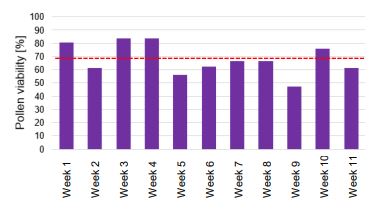 Amphasys Pollen Analyzers
Amphasys Pollen Analyzers provide pollen quality metrics which enable you to improve your plant breeding and seed production processes:
The Ampha Z40 is a high-end laboratory device. It offers full flexibility for all research tasks and predefined templates for routine quality control.
The Ampha P20 is a mobile high-tech instrument for greenhouses and fields. With its easy handling and automated data analysis you get immediate results on site.