Pollen Quality in
Tomato Seed Production
Pollen Viability and Seed Set
By using the Ampha P20 Pollen Analyzer you can easily determine the viability of your pollen to ensure maximum pollen quality needed to achieve an optimum seed yield.
Prevent losses by checking the pollen quality before pollination
Increase seed yield and production efficiency
In a large scale customer research project with 12 different tomato varieties and over 800 plants, a clear and distinctive correlation between pollen viability and seet set was obtained for every line.
Tomato Pollen Analysis With the Ampha P20
The Ampha P20 is the first fully portable and autonomous pollen analyzer for on-site measurements: in the field and in the greenhouse. It is the optimal device for systematical screening for phenotyping and routine quality control. With dedicated, crop-specific chips we simplify the measurement and data analysis in an unprecedented way.
new crop-specific microfluidic chips
fully automated data analysis
easy handling for routine measurements and systematical screening
Determine the Optimal Time for Pollen Harvest
With the Ampha P20 Pollen Analyzer you can determine the viability of your pollen faster than with any other method for pollen viability determination.
Determine the best time to collect high quality pollen
Optimize growth conditions for maximum viability
Pollen viability can vary considerably over time.
The target viability to achieve optimum seed set for the example tomato line shown in the illustration, should exceed 70% viability.
Using the batches of pollen with viability below 70% could lead to a reduced seed set. These batches could for example be mixed with high viability samples to reach optimum seed set.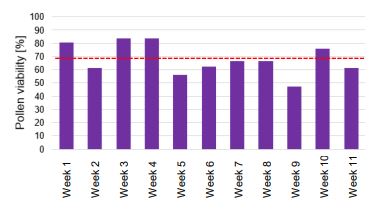 Dr. Ewa Shreepaathy, Rijk Zwaan Breeding B.V.
«Thanks to the expertise of Amphasys with pollen analysis, we were able to identify the minimum pollen quality required for optimum seed set for individual tomato lines.»